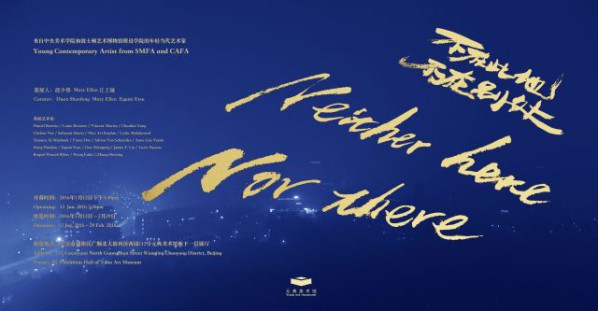 Preface
Imbedded in the memory of our generation, in 2001, when China joined the WTO, globalization became the most heated topic in the society. For the first time, China's national soccer team qualified in FIFA World Cup. In that same year, China succeeded in its bid to host of 2008 Olympic Game. Also in that year, terrorists attacked the world trade center in New York. When our generation was young, we wrote in our primary school's essays about our fantasies for human's life in 21 century. In 2000, there were ceremonies all over the world to welcome the 21st century. In China, a contemporary performance artist Da Tong Da Zhang chose to use suicide during the new year's eve to say good-bye to the old century and welcome the new century.
Thinking of the 21st century, we were hoping and expecting to live in a better time. In 2016, we ask ourselves if we are living in the time we wish to be? After 16 years, the situation of needing of an extreme action of Da Tong Da Zhang serves as a metaphor for Chinese contemporary art. PSA is giving a retrospect to his work. He has moved in the eyes of the public from being a dead edgy artist to becoming a mainstream hero exhibited in museum. Chinese contemporary art and artist took a very short time to become mythologized and self-promoted. This happened in less than half century.
Chinese contemporary art is more and more being seen and accepted by the international art community. The connection and communication between Chinese and international artist has become more and more frequent. After the wave of going abroad in the 1990s, going abroad has become normalized and easier today than ever before, the internet has shortened the distance between people as well. Although it seems that we have more freedom, all the problems we were facing still haven't been solved, regional war in the world has never stopped, human beings are still killing each other, the differences in beliefs and the conflicts between cultures are resulting in a worse scenario than ever. Greek philosopher Zeno once said: "Our knowledge is like a circle. Inside the circle is the thing you know about, outside the circle is the thing you don't know about. The longer this circumference is, the more knowledge you have, the more you realize you don't know about." Freedom is the same as knowledge. Once we leave our cage, we enter into a bigger one. The more we pursue freedom, the less we might get. Globalization is no longer the heated topic on the table, it has become normalized in our daily life, but the problem raised around globalization has never stopped. Although we don't pay attention to the issues around globalization it doesn't mean it's not there. It is already clear to us the impacts from the politics between third world countries and developed countries, as well as the dispute between geographical politics and religions.
We are longing for a beautiful new world, but ended up with animal farm. Art as the softest part of human emotion can serve to remind us in this modernized and sometimes ultramodern world we are still just human beings, like in Luc Besson's film Lucy, where the actress is using kissing to keep reminding herself that she is still a person.
This exhibition comes out of the context of the normality of globalization. Students attending the SMFA come from all over the world, and the students from CAFA as well. These international students studying at the same school and become friends and colleagues. Art school has become a utopian place in our society. In this exhibition, we invite international artists from SMFA and CAFA. They come from diverse cultural backgrounds and are receiving contemporary art education. They eventually are making work which is based on their own cultures but different from their culture at the same time. As a result, we have named this exhibition "Neither Here Nor There", because the international students are geographically not in the place where they were born and at the same time find themselves in a new culture different from their own. These might be the situation for them and maybe for the whole contemporary art world.
About the exhibition
Dates: Jan 12, 2016 – Feb 29, 2016
Opening: Jan 12, 2016, 15:30, Tuesday
Venue: Yuan Art Museum, Beijing, China
Curators: Duan Shaofeng, Mary Ellen Storm, Egami Etsu
Artists: Laila Abduljawad, Tamara Al-Mashouk, Max Avi Kaplan, Daniel Barreto, Dai Furen, Dong Dandan, Egami Etsu, Zhenpeng Gao, Vincent Martin, Chelsea Nee, Lucie Payoux, Raquel Pitarch Ribes, Laine Rettmer, Adrien Schneider, Safarani Sisters, James T. Liu, Anne-Lise Voisin, Wang Enlai, Chunhui Yang, Huiying Zhang
Courtesy of the artists and Yuan Art Museum.
Related posts: