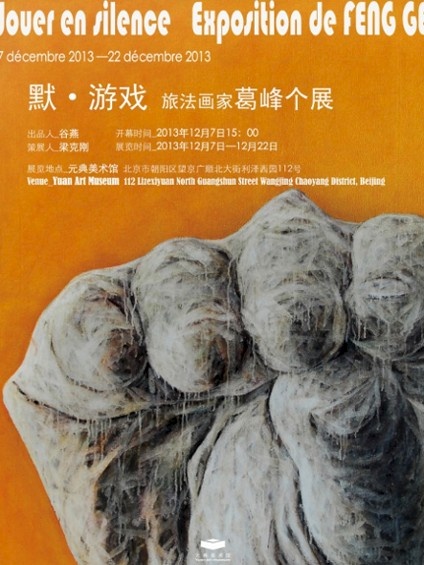 Yuan Art Museum will be hosting the latest solo exhibition of Ge Feng on 7 December. Since the beginning of the eighties, when studying abroad was at its peak, Chen Dan Qing, Xu Bing, Ai Weiwei became representatives for artists who studied in the United States. At the same time, Huang Yongping, Yang Jiechang, represented the French artists groups. The earlier generation of artists largely expressed their frustrations towards the conflict that resulted from the collision of Chinese and Western culture and civilization. Thus, today not only have we become more attentive to the point of view being expressed by this generation, but their concerns have become a memory or history of art. While not enough attention has been given to the new generation of painters studying abroad, Ge Feng is seen as a representative of the second generation of artists studying abroad, his creation seems to be a case as to render their style of this generation of artists in France.
Ge received early education about art in China, and then received further education about art in France, having lived under both western and Chinese cultural backgrounds; Ge is able to understand the difference and similarities in the two cultures and art forms. From Ge's experience, there are two possible angles from which we can see why he is a representation of the 70's study tide , one is that he is a "seventies artist".
Firstly, the "seventies artist" group is actually very diverse and multidimensional, art critics try to make a classification of this generation, such as youth brutal painting or cartoon generation eventually concluding that generation it is difficult to classify the seventies. In the literary realm , there are writers like Mo Luo Yu Jie , and Shu Xiao, as well as influential writers like Wei Hui , Mian Mian. so overall, this generation of people who experienced the opening up of China carry a more complicated historical background , their adolescence experienced the idealism of the 1980s, witnessed the creation of the Chinese consumer society in the 1990s, therefore, it is difficult to categorizes as generation seventies artists as a collective genre, their art will not be considered similar to their fathers "scar art" in the future, but instead it will stand out as individual period of art. In short, seventies generation's art is multidimensional, and today we need to re-discover and re-define seventy's arts.
Second, is that he is a Chinese artist who was living and studying abroad in France. Like every other artist studying abroad, Ge arrived in France with anxiety and depression, which is evident from his text, Ge Feng wrote: "in 2001, when I first experienced European contemporary art it was so overwhelming. I consider myself a well-known and well-experienced painter, not only do I have a lot of painting techniques, but I have also been painting for 10 years, at the same time, I have read a lot of art books and reviews, and I claims to understand Western art history. But after my first year in France, it felt like everything that I know became past tense and history! In front of the wide variety of contemporary Western culture I experienced a sense of shock, a lost feeling, which caused me to struggle to come to terms with my knowledge of painting. "Mr. Ge's feelings and future creations reflect this cultural confusion, hence the last twelve years became a problem solving twelve years, Ge's artistic experience can reflect the style of the studying artists of his generation, especially the confusion and struggle of this culture.
So far Ge's creative series include "Hand Series", "Unknown Space Series", "Pleasure Series", "Rice paper Series". These works reflect more than ten years of effort of an artist's creation, at the same time, it constitutes a mature artist's overall style.
About the exhibition
Producer: Gu Yan
Curator: Liang Kegang
Opening: 7th Dec. 2013 15:00
Exhibition Duration: 7th Dec. — 22nd Dec. 2013
Venue: Yuan Art Museum (112 Lizexiyuan North Guangshun Street Wangjing Chaoyang District, Beijing)
Courtesy of the artist and Yuan Art Museum, for further information please visit www.yuanartmuseum.com.
Related posts: