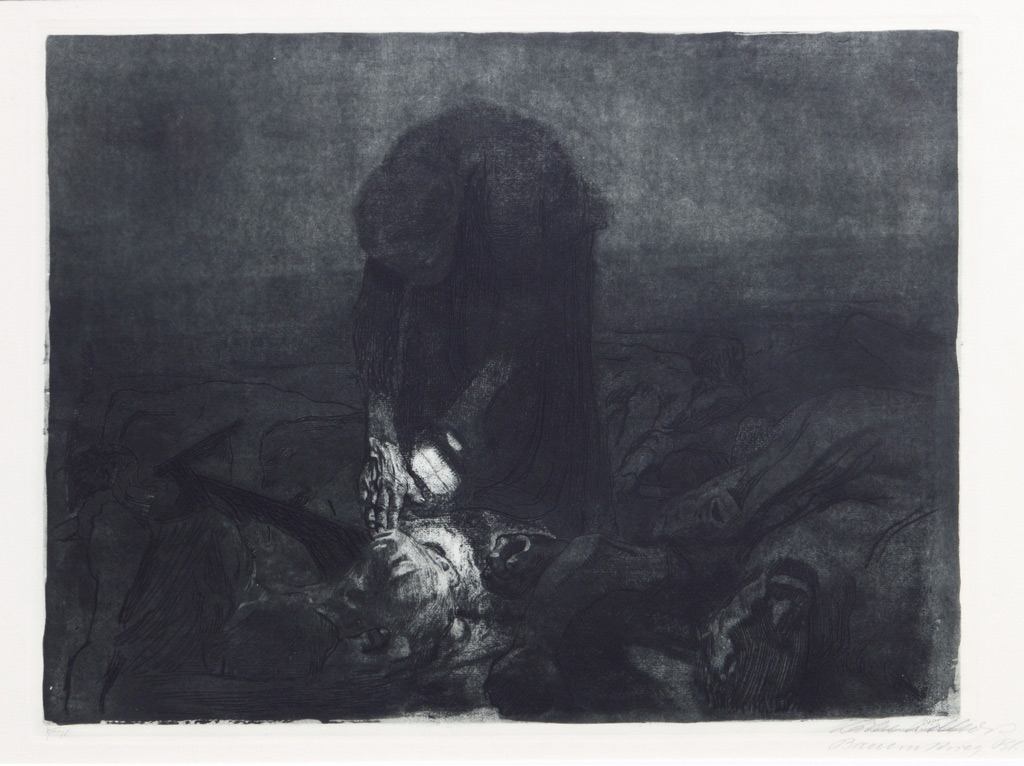 YUAN Space announced the opening of its exhibitions in 2013 with Dancing with Virtuoso on January 25th, 2013, which features more than 30 masterpieces by a couple of well-known artists throughout the history of art.
In this exhibition Chinese audiences will for the first time be able to view drawings by Balthus, Caspar David Friedrich and Giovanni Alberti. Despite concise color and simple linearity, these sketchings or studies powerfully represent the artists' attitude on creating form with their unique inspiration. People would also easily find the typically creative characteristics for each significant period that these works belong.
In the mean time, etchings by Käthe Kollwitz and Giorgio Morandi will constantly hold the gaze on site. 7 pieces of etching from the famous series of Kollwitz Peasants' War capture the speechless compassion towards human beings. This grief female artist lost her husband and son in the first and second world wars separately, that is why her creation was always accompanied with dramatically tremendous force. Through this exhibit, it is the great opportunity to understand how the unique casting with complex emotion made her art everlasting in art history.
The show, also the first group exhibition in YUAN Space since build-up, will be on view till the end of March, 2013. 'It is the hope to pay a tribute to masters who passed by while left monumental artworks, to provide a chance for people who live here but have limited access to world class arts, to reflect on their own thoughts and feelings that all art professionals could recall the original passion for their career.' said Wenjia Zhang, the Executive Director of YUAN Space. To exaggerate the seduced details of these works on paper, YUAN Space were specially installing extra projectors for each piece of work so that the museum-grade presenting quality is perfectly ensured.
Featured Works
Lovis Corinth: Charcoal on paper
This work is the only sketch of portrait in the whole exhibition and fairly pricing priceless Corinth. From late 19th to early 20th Century, German arts experienced a transform from realism such as traditional school arts into expressionism like modern arts, Corinth is one of the iconic artists and his creation precisely represented the process of revolution. In world history of art Corinth is absolutely irreplaceable; in China, however, few people know this artist well so that his artistic value was often lower estimated before.
Caspar David Friedrich: Chalk, pencil and ink
A marvelous coincidence happened in the Caspar's work like we're looking at a piece of Chinese traditional artwork, in background they both used to engage a typical creating method of impressionism: to leave a blank. You would find quite imperceptible strokes by pencils when seriously study in detail though seems empty. In the far distance, compared with the trees and guy nearby, mountains gradually disappear on the edge of the sky, as well taking us forward to a certain Chinese aesthetic objects.
Giovanni Alberti: Chalk on paper
During the time of Renaissance artists used to do multiple researches on anatomy and were experts on bones, muscles and skin textures of human beings. That was a prosperous period that sketching technique has been ever developed, almost all artists were highly skilled at shading and structuring. Giovanni Alberti lived in Rome between 1558 and 1601. From this piece of work it is not hard to learn that his talent is extraordinary and nearly equivalent to the 3 representatives of the time: Raphael, Da Vinci and Michelangelo. If we look at in-depth of the lines he drew, we could infer that it was finished by his left hand and the imaginary was full of dramatical tension.
About YUAN Space
"YUAN", in traditional Chinese is referred to the origin of all beings. YUAN Space wishes to embrace art with passion of a newborn and to receive its visitors with the humility of a novice.
YUAN Space is a non-profit organization that aims to present art exhibition of the highest standard in order to offer its viewers rare opportunities of viewing masterpieces of art. Located at the city center of Beijing, its space occupies approximately 1,000 square meters. In order to guarantee an excellent viewing experience, the space has adopted the by-appointment-only model, to allow the beauty of the artworks be fully revealed in this outstanding exhibition condition. Besides its exhibitions, YUAN Space is also devoted to unveil the irreplaceable importance of these artworks in the history of art of the world through its series of public education programs.
About the exhibition
Opening Reception: Jan 25th (Fri) 4-7PM, 2013
Duration: 11am-5pm, Jan 26th to Mar 30th, 2013 (Closed from Sun to Mon, Appoinment Only)
Location: 20/F, Tower B, Jiaming Center No.27 Eastern 3rd Ring Road (North) Chaoyang District, Beijing
Courtesy of Yuan Space, for further information please visit www.yuanspace.cn.
Related posts: