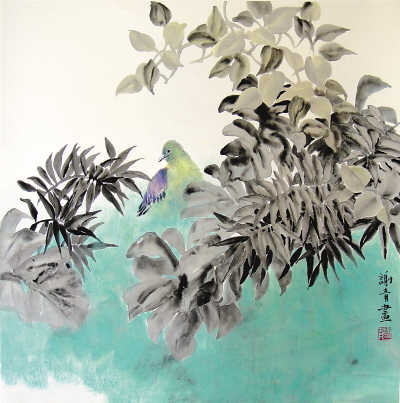 Just like the literati are keen on the use of beautiful flowers to praise beautiful women, the young artist Xie Qing uses her brush to portray the hundred postures of the ladylike flowers. Her flowers have a beauty of personification, slim and tepid, no matter what kind of flower she paints, instead of the obsequiousness that often please people.
A fresh and elegant "bookish" emerges from the paintings of flowers and birds by Xie. Rather than wilful, indulgent or vibrant blooming flowers, each branch blooms quietly, reservedly and with a ladylike restraint. Looking at the details, we find structured petals, confessed strokes, vivid and lively vines, the lines, sometimes, are as tough as iron wires and oncorhynchus, sometimes, are smooth and mellow, the vitality of toughness overflows from the leaves.
Xie Qing's experience is enviable. She was born into a painting family, graduated from the High School Affiliated with CAFA, and attended CAFA, where she won the "Ye Qianyu Scholarship", "Okamatsu Art Fund Prize", etc., attaining a solid foundation in art. Always focusing on the study and creation of Chinese painting of birds and flowers, and rooted in this art garden, Xie Qing, worked as a teacher, after graduating from the CAFA. She spends her life writing, painting and discussing painting techniques with the students, exchanging creative ideas with her colleagues; to learn, inherit experience, and teach students by experiencing and understanding the thinking and painting skills of her predecessors through her creations. Xie Qing said: "It's probably that my life is spent in this way, which is thought to be a smooth experience or uninteresting, but I always believe that life is hard-won. I live day by day, painting stroke by stroke. I have always been serious about life, and sincere to painting, which is my pursuit.
There are a large number of masters in the Chinese painting world. Xie Qing selected Pan Tianshou as her subject to study during her PhD, finishing a thesis "Study of Pan Tianshou's Art of Flowers and Birds". She was inspired by the style of sketching of Pan Tianshou in Yandang Mountains: Pan Tianshou never sketched at the scene, he just observed, saw the mountains, the flowers, and the water, at the end of the sketching period, he harvested several large scale creations including "Flowers of Yandang Mountains" and "Corner of Xiaolongqiu/ Little Dragon Waterhole", as his masterpieces. Following that Xie shifted from the study of gained knowledge to the language of painting, melted into the painting, exploring the best way of expression to convey her thoughts and feelings.
She consciously chooses some simple themes from life, such as the unknown wild flowers in the gardens of ordinary people and countryside, which are covered, though few people know it, rarely painted by noted painters before her. Xie Qing strengthens her feelings of these flowers, doing experiments in new painting language with the use of a new subject, and she focuses on the coordination of dots and planes, in addition to the elements of line, emphasizing the graphic effect of the painting, weakening the ink's levels, adding the modern composition factors into painting. In recent years, Xie Qing's paintings have had some gratifying changes because of her persistent efforts. Depicted by Xie Qing, all the subjects in the countryside, display a ladylike elegance including the noted flowers, I like the bookish ladylike subjects she has painted.
Text by Yue Jieqiong, translated by Chen Peihua/CAFA ART INFO
Related posts: