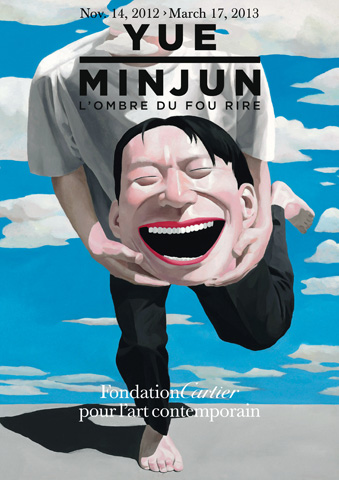 The Fondation Cartier pour l'art contemporain presents the first major European exhibition dedicated to the Chinese artist Yue Minjun from November 14, 2012 through to March 17, 2013. Featuring nearly 40 paintings characterized by enigmatically laughing characters rendered in bright colors, it provides a unique opportunity to discover the work of an artist who, in spite of his international renown, continues to maintain a relatively low profile. Yue Minjun's paintings reinvent the grotesque and its codes, while expressing an ironic and disillusioned vision of the social situation in contemporary China, as well as of the human condition in the modern world. The paintings on view are from collections around the world, as well as a wide array of drawings that have never been shown to the general public. This exhibition will reveal the singular and complex aesthetic of an oeuvre that defies all interpretation.
Born in 1962 in Daqing in the Chinese province of Heilongjiang, Yue Minjun has become one of the most renowned artists and leading figures of his generation, a generation profoundly marked by the social and political history of contemporary China flourished in the early 1990s. Like his peer contemporary artists such as Zhang Xiaogang, Wang Guangyi and Zhang Huan, Yue is one of the most imitated artists in the world and extremely successful on the art market. In August, 2012, Yue Minjun's 25 identical bronze sculptures collectively titled "Chinese Contemporary Warriors" became the first work of Chinese contemporary art ever installed at LongHouse Reserve in East Hampton, New York, while Yue's 14 painted sculptures "A-maze-ing Laughter" has become an instantly recognizable symbol of the city in Vancouver, Canada.
About the exhibition
Duration: November 14, 2012 – March 17, 2013
Venue: Fondation Cartier pour l'art contemporain
Courtesy of the artist and Fondation Cartier pour l'art contemporain, for further information please visit fondation.cartier.com.
Related posts: