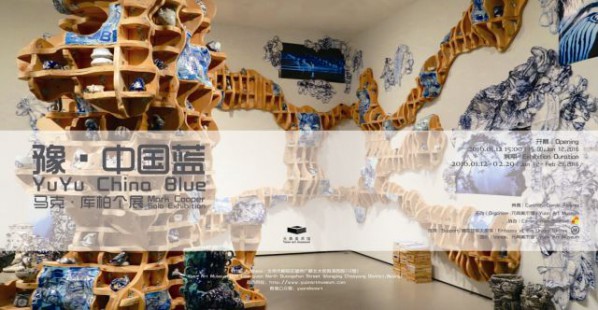 Yuan Art Museum is proud to present a collaborative exhibition by the Boston based multimedia artist Mark Cooper, entitled YuYu China Blue. YuYu refers to the environment of the Yuyuan Garden – its rockery and tiled architecture. China Blue denotes the great influence Chinese blue and white porcelain from Jingdezhen has had on the world for centuries. Both of these influences are reinterpreted through Mark Cooper's collaborations with established and emerging contemporary Chinese artists. The effect will be a maximal installation guided by the hands of many artists across geographies and histories, creating a distilled environment of the collaborative process.
For this exhibition, Cooper has collaborated with artists in Beijing, Jingdezhen, and the United States to create ceramics, sculptures, paintings and drawings that have coalesced into over 500 objects. In Beijing, Cooper has collaborated with Ma Shuqing, Wang Sunshine, Wang Ying, Xu Quan, Yan Feng, Zhang Tiancheng and Zhu Liye. In Jingdezhen, under the auspices of the Jingdezhen University Academy of Ceramic Art and Design Arts, Cooper has produced sculptures with Chen Shi, Cheng Xin, Cheng Yun, Hu Qiang, Lu Maoshun, Shao Qi, Zhang Baoqing, Zheng Fengyin, and Zheng Wenhua, including valuable contributions from the students from the Class of Ceramic Arts 2013. Contributing artists working in the U.S. are Furen Dai, Jessica Lu, Brielle Mariucci, Silvi Naci, Waxin Zhang and Dayan Ding.
"Integral to my art is the idea that the whole is greater than the sum of its parts. The components work in conversation forming a visual and metaphoric language. This language of collage/assemblage is a catalyst for individual associations and perceptions that impacts brain functions in the viewers in a different way than a linear narrative. The collaborative aspect of the work created and the individual contributions of multiple collaborators to the conversation amplify this. It combines components with a specific history and decontextualizes them in relationship to each other. The diverse materials and techniques – with imagery that is drawn, painted, glazed, and reproduced photographically on ceramics, wood, canvas, walls, and paper – reference cultural history, global influence, and individual artistic expression. Although the work consists of many elements of differing scales, media, color, texture, visual weight, and historic and global references and origins, it is interesting to consider the way in which the varied components co-exist in harmony and work as a unit to convey ideas about the shifting global economy, the development of far-reaching consumer markets, and the influence of these on the arts. The juxtapositions of the elements in the assemblage are meant to involve viewers in an internal discourse about the relationships put forward in a way that differs from a linear narrative." – Mark Cooper
In each instance, Cooper's work has been informed and affected by China's contemporary art and historic culture. Repurposed photographs from the artist's travels, wood sculptures fabricated in China, ceramics made with esteemed faculty and students, ink prints and drawings on rice paper, the artist's paintings and collaborative paintings coalesce into a complex cultural conversation on aesthetics, techniques, installation and immersive exhibition practices. Classic ceramic porcelain forms, produced in historic Jingdezhen, occasionally have traditional rice paper collaged onto them. Hundreds of translucent printed and inked rice papers cascade from the walls, framing the paintings and wall sculptures, and acknowledging the architecture of the museum. Cooper's multi-fired ceramic forms are interspersed with the aforementioned collaborations and inserted into and onto the wooden sculpture's shelves. These wooden sculptures reference diverse architectural and natural forms, from bamboo scaffolding to scholar rocks, beehives to Victorian curio cabinets.
About the exhibition
Date: Jan 12, 2016 – Feb 29, 2016
Opening: Jan 12, 2016, 15:00, Tuesday
Venue: Yuan Art Museum
About the lecture series
Mark Cooper Artist Talk: January 8th, 2016 | 6:30-8:30 pm | Beijing American Center, Jing Guang Center, Suite 2801, Hu Jia Lou,Metro line 10, Hua Jia Lou stop, exit D
YuYu China Blue Preview: January 11th, 2016 | 5 pm | Yuan Art Museum 112 Lizexiyuan North Guangshun Street Wangjing Chaoyang District, Beijing, China
CAFA Lecture: January 13th | 6:30 pm | Central Academy of Fine Arts (CAFA), Multimedia Report Hall, Sculpture Department, first floor of Building No.6, 8 South Huajiadi Street Chaoyang District, Beijing, China
About the artist
MARK COOPER (b. 1950, Evansville, IN) has been based in Boston for 20 years, working in ceramics, photography, painting, and sculptural installation. Cooper received his Masters of Fine Arts from the School of the Museum of Fine Arts (Boston, MA) in 1980, and his Bachelor of Science from Indiana University (Bloomington, IN) in 1972. He has been awarded various public art commissions and grants from the Boston Medical Center, an Artist Fellowship Grant from the Massachusetts Cultural Council, a Gund Travel Grant (Bali), and a recent special commission for the flagship store of Comme des Garçon in New York City. In 2006, he authored Making Art Together through Beacon Press, which focuses on establishing participatory and collaborative art practices. He currently teaches at Boston College and the School of the Museum of Fine Arts. He has forthcoming solo exhibitions at the National Museum of Fine Arts Hanoi (Vietnam, December 2015) and the University of Fine Arts (Hanoi, Vietnam 2015). Recent exhibitions include the Ceramic Top 40, Gallery 224, Harvard University (Boston, MA 2015); James and Audrey Foster Prize, Institute of Contemporary Art (Boston, MA 2013); New Blue and White, Museum of Fine Arts Boston, (Boston, MA 2013) and More is More, a solo exhibition at Samsøñ, (Boston, MA 2011).
For this exhibition, the Yuan Art Museum will be producing a catalog in conjunction with Samsøñ, a contemporary art gallery in Boston.
YuYu China Blue will run concurrently with the exhibition Neither Here Nor There, featuring artwork produced by 20 young, international artists from two experimental art schools—Central Fine Arts Academy, Beijing (China) and the School of the Museum of Fine Arts, Boston (U.S.).
For U.S. requests, contact Sam Toabe, Assistant Director, Samsøñ: sam@samsonprojects.com
For C.H. requests, contact Yu Jia, Assistant to the Director, Yuan Art Museum: yuandianartmuseum@126.com
Courtesy of the artists and Yuan Art Museum, for further information please visit www.yuanartmuseum.com.
Related posts: