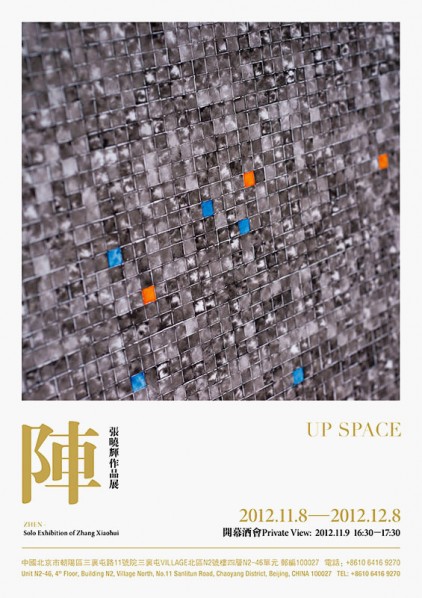 UP SPACE was pleased to announce the opening of Zhang Xiaohui Solo Exhibition titled "Array" on November 9 at its gallery located at N2-46, North, Sanlitun VILLAGE. It will run from November 9 through to December 8, 2012. Cultural officials of embassies, well-known artists and fashion and art press media were present at its opening ceremony.
"Grid" Series
Like philosophical poetry, abstract works bring exquisite feelings to the audience after thorough reading. Abstract painting is also the case since a familiar screen cannot be perceived at first sight. It appears as an abstract point, line and plane which is precisely the absence of representational objects in the picture in turn gives the viewer a broader space for imagination and mediation. This spiritual resonance is beyond visual pleasure. "Grid" series intends to form a completely new recognition and new exploration in "classical spirit" through the process of painting "grid". The "classics" do not lie in the seemingly exquisitivity but in the "rigorous spirit" conveyed by the depths of works and the "purifying" attitude towards beauty. This is what Zhang Xiaohui has perceived and experienced from art: vitalizing art while beautifying life with art.
"Arabian Nights"
This series are opuscules Zhang Xiaohui created during his spare time with his abstract works. These are more like his "visual diaries" including figures, animals, vegetables, architecture and so on. They were collaged according to the temperament of "Arabian Nights" which formed the keynote of this series. Their blue color, subtle tone and all kinds of things have been interspersed among them…In addition to the abstract, an audience can comprehend Zhang Xiaohui's realistic and diversified world of art.
"Eight Silent Chapters"
What has inspired Zhang Xiaohui to create "Eight Silent Chapters" was the experience as if he had walked away from a novel feeling when he read comic books during his childhood into the transition of a "viewing perspective". Firstly he sewed all the parts except the scenery, then his thinking extended and he sewed the scenery down as well, leaving only the block of black, white and gray in various sizes while coming into a purely abstract stance. These abstracted blocks in black, white and gray are like the walls for the audience to introspect on themselves, brushing away all the hustle and bustle of the earth so that one can reflect on himself three times a day as well as face to face with himself.
About the artist
Born in 1987, Zhang Xiaohui studied at the Central Academy of Fine Arts from 2007 to 2011 and he was recommended for admission to the Printmaking Department of the Central Academy of Fine Arts in 2011. His work has won the first prize of "Graduates from Printmaking School" at the Graduation Exhibition of CAFA "The Start of A Long Journey". He has participated in the group exhibitions held in UP SPACE "Wolf in Sheep's Clothing", "Mystery", "Uninvited Guests".
Related posts: