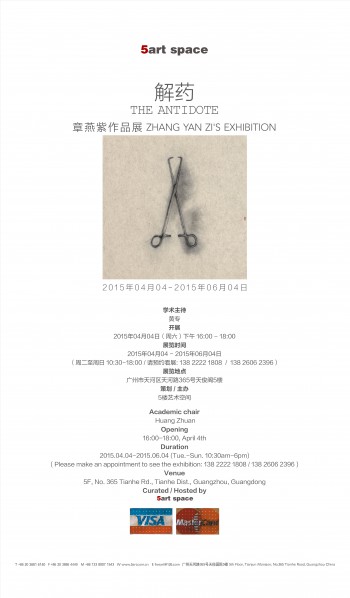 5art in Guangzhou is currently presenting a collection of recent paintings by Zhang Yanzi. Provoked by a family bereavement the series, entitled The Antidote, meditates on living things, life's journey and the general meaning-of-it-all.
The curator Huang Zhuan has written in the preface for this exhibition that, Yanzi tends to create some kind of serene state in her art, although they contain the seeds of multiple contradictions and discomposure, such as the absurd images and ethereal landscapes, painful memories and expiated meditation, a lust for the flesh and spiritual arrogance but all the contradictions are appropriately united in the elusively gossamer-like lines and color clouds, depicting modern anxiety while working as the detoxification and treatment of this kind of anxiety.
"We seldom think about life and death until we lose someone," Zhang explains. "But then we begin to wonder where people finally go. I hope there's a heaven but I'm not sure." Zhang, who teaches Chinese painting at the Central Academy of Fine Arts in Beijing, has delved deep into Chinese philosophy to find inspiration for her works.
A Warring States period philosopher might seem an unlikely muse, but Zhang's intricate, melancholic creations follow an existential thread that can be traced through the millennia of Chinese thinking. Which begs the question, is this contemporary or traditional art?
"I've studied Chinese traditional art but I live in modern times so I'm naturally caught-up in contemporary issues. This is how my work differs from classical art. For instance, in the paintings Itches One and Itches Two I've painted ants. Traditionally they're regarded as a small and worthless life, but actually when you watch them you can see their whole society, their universe. "
Also as Huang Zhuan commented, contemporary life, in Yanzi's art is reflected in not just the materialized excessive dissipation and void but it is also expressed in the fabulous pathos and sentiment, these seemingly paradoxes in her art in my opinion are derived from the aesthetics of the Six Dynasties.
Zhang's search for spiritual context has been met with criticism from art traditionalists in China, but her work has found a wider acceptance abroad. "In an exhibition in Naples last year people really warmed to my paintings. Even though we could not communicate easily I think they understood what I was trying to say. In this sense art really is the international language."
Susan Sontag once wrote that "Art is not consciousness per se, but rather its antidote–evolved from within consciousness itself." While Yanzi said something similar, the pain of soul needs spiritual consolation, there is a kind of antidote, which are the mountains and rivers, pale clouds and light breeze.
Zhang Yanzi's The Antidote will run until June 4 at 5art.
About 5art Space
Since its establishment in 2010, 5art Space has garnered a reputation in Guangzhou for showcasing distinctive works by a wide range of artists. Thanks to the endeavors that the owner and curator Wu Jie puts into each exhibition, 5art has attracted more and more attention from critics, artists as well as art fans. "I always wanted to work with art. I simply love it. When I found space in my life I opened 5art to try to give contemporary art expression more exposure in Guangzhou, " Wu Jie stated.
Courtesy of the artist and 5art, edited by Sue/CAFA ART INFO, for further information please visit www.5art.com.cn.
Related posts: