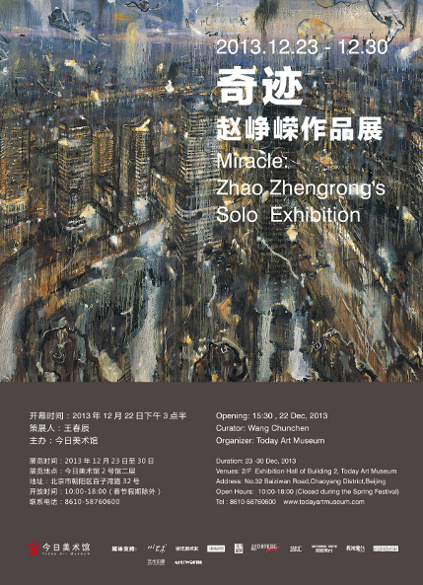 Exhibition Preface / Zhao Zhengrong
The varied interpretations of miracles are as such: a wonderful occurrence, a marvelous event; the things beyond imaginations; an extraordinary and an unusual task which is hard to fulfill. For the case of painting, I feel the same way. Miracles take a lot of time to fulfill, and they are comprised by many causal elements.
I spent more than eight years to work in Guangzhou Academy of Fine Arts. After varied trying and meditation of the sake of art for years, these paintings are the output from there. The non-reproducible flowing traces are an experiment after an experiment with the signs of uncertainty. Likewise, they are some kind of brutal invasions, or a sort of incidental tokens. I tried to create a kind of mental atmosphere, a momentary instant, a space for the soul which is tangible.
What is the significance of life? Is it a fragmented journey which is without a predetermined destination? Is it a journey which is blind for the next moment? Possibly, there is hard to get an answer immediately. But in this way, life is in name and in fact a journey comprised by numerous miracles. In my paintings, sometimes, I get lost; sometimes I have the anguish feeling; but also I have the moment of joy and ecstasy. I've been thinking always, how to express the complicate thoughts in a simple and clear form. This time, I was able to present my solo exhibition in Beijing Today Art Museum, while I have the honor to have Mr. Wang Chunchen to be the curator of the solo exhibition, which is exactly for me, "a miracle".
About the exhibition
Curator: Wang Chunchen
Duration: Dec 23 – 30, 2013
Venue: Today Art Museum – 2nd Floor Exhibition Hall, Building 2
Opening: Dec 22, 2013 Sun 15:00
Courtesy of the artist and Today Art Museum, for further information please visit www.todayartmuseum.com.
Related posts: