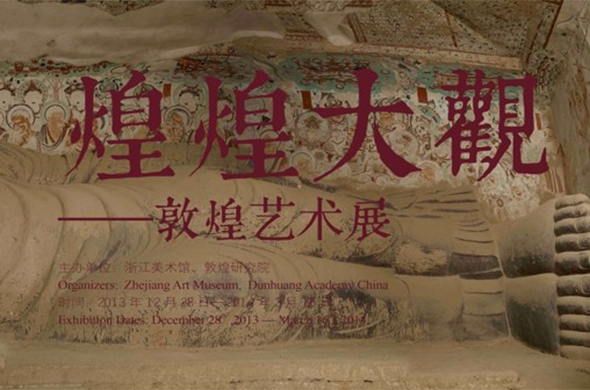 "Bright World – Dunhuang Art Exhibition" is presented at the gallery, central hall, Hall 4, 5, 6, 9, 10, and sunlight gallery in the Zhejiang Art Museum. The Museum also places the monument from the Mogao Grottoes in the outdoor square, as well as showcasing caves that copy them according to the original size, so that for the audience it is as if visiting Dunhuang. The exhibition will continue until March 16, 2014.
The exhibition is divided into five sections including "Pearl of the Silk Road", "Solemn Buddha Palace", "Windy and Rainy History", "Discovery of Scripture-Storing Cave", "Zhejiang Scholars of Dunhuang Study Research Achievements", showcasing seven recovered caves of Dunhuang Mogao Grottoes, 59 copies of murals, 10 replicas of colored sculptures, 10 original flower-pattern bricks, 10 volumes of original scriptures that were unearthed from the scripture-storing cave, literature from the scripture-storing cave, Zhejiang scholars on the Dunhuang study research achievements, etc.
The intention is to carry forward the excellent traditional culture of our country, to improve the display and promotion of Dunhuang art, to popularise the knowledge of Dunhuang culture, interpretation of Dunhuang culture and Dunhuang study, showcasing the forefront research achievements of the maintenance of Dunhuang Caves, images and documents, Zhejiang Art Museum and Dunhuang Academy China are jointly holding "Bright World – Dunhuang Art Exhibition", to provide a platform for the audience to closely appreciate and perceive Dunhuang art.
In order to coordinate with the Dunhuang exhibition, the organizer is holding the "Zhang Daqian Copied Dunhuang Mural Paintings Exhibition", which showcases 60 Dunhuang mural paintings copied by Zhang Daqian as well as his line drawings. By exhibiting these works in Zhejiang, it is possible to deeply extend the interpretation of the important role of Dunhuang art in the development of modern Chinese art, offering a profound significance in the understanding of Zhang Daqian's Dunhuang artistic achievements; it showcases 59 replicas of Dunhuang mural paintings by artists including Chang Shuhong, Shi Weixiang, Chang Shana, Duan Wenjie, bringing the audience into the difficult years of the artists who were rooted in Dunhuang at that time; secondly, "Coloring and New Look – Dunhuang Rock Color Painting Exhibition" showcase 68 new rock color paintings created by painters of the Fine Art Research Institute of Dunhuang Academy China, the old and plain material "rock color" is retained by several generations of the Dunhuang Academy China and yields their fruitful achievements.
Text edited by CAFA ART INFO, translated by Chen Peihua and edited by Sue/CAFA ART INFO.
Related posts: