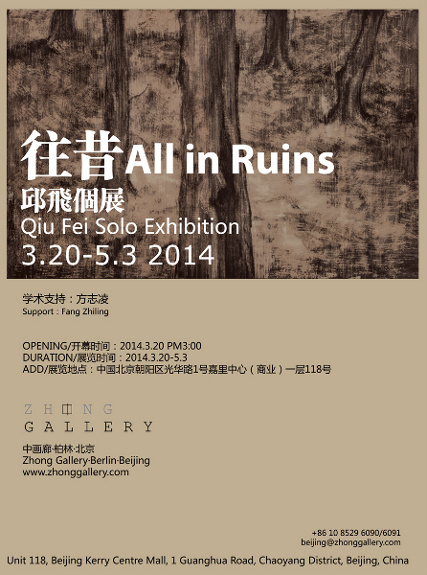 Preface: Withered wood in memory
As grass and wood withering and flourishing annually, the history traces itself in the life circle. Every individual life tries to engrave these momentary happenings in memory, however struggling in reality. Memory in this case creates life which was produced by society. And society therefore has established in name of memory. There are inevitable changes taking place in our memory in terms of the attempts of memorizing and forgetfulness. We cannot even realize every single change that happened each time, nor shall we steer clear of the invariable law of nature in the process of recession and resurgence, sometimes being manipulated and invaded.
Countless man-made objects have become symbols in memory as time goes by. Fashion trends and the spirit of the age have merged into memory. Therefore adjustments are applied each time when we relive the experiences according to the creator himself and the taste of beholders. All kinds of feelings can be evoked; it can be the sense of national pride, sadness or ambitions of Utopianism.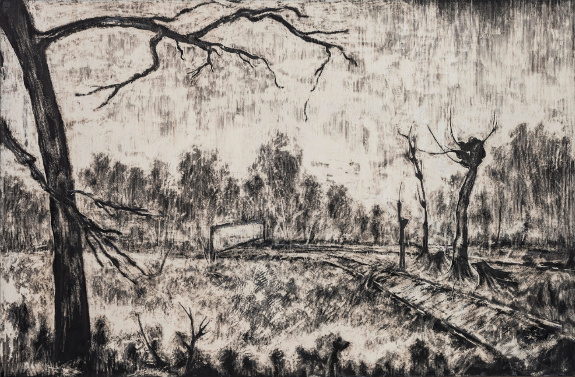 As a particular symbol in memory, withered wood still has life, not dead yet. It can get back to life without any help from human beings. In this case, it conveys the message of eternal power in nature, surpassing these gorgeous yet temporarily blossomed flowers. In Chinese painting, the symbol of withered trees offers a sense of might based on the visual and conceptual ambiguity. It implies hope of new life and youth against death and desolation. Withered wood symbolizes eternity instead of an end by its weather-beaten trunks yet graceful shapes.
The artist Qiu Fei focuses on the constant communication between inner self and the landscape world in his works. A peaceful mentality of acceptance of the world is highlighted in his art work. His painting however does not betray a hint of obvious attempts of hope.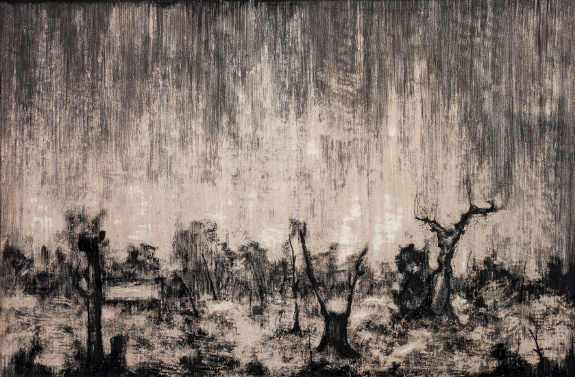 Material and Method
The artist Qiu Fei uses wood board as the main material to pain on. The wood board was painted all black first then he displayed the scenery in his heart on the board by cutting off the rest parts of the ink layer upon layer. Qiu Fei is more of a messenger conveying power than a creator.
About Qiu Fei
1981 Born in Zibo, Shandong Province, China
2005 Graduated from Lu Xun Academy of Fine Arts (BFA Printmaking), Shenyang, China
2013 Graduated from Central Academy of Fine Arts (MFA Printmaking), Beijing, China
Now works for Shandong University of Art & Design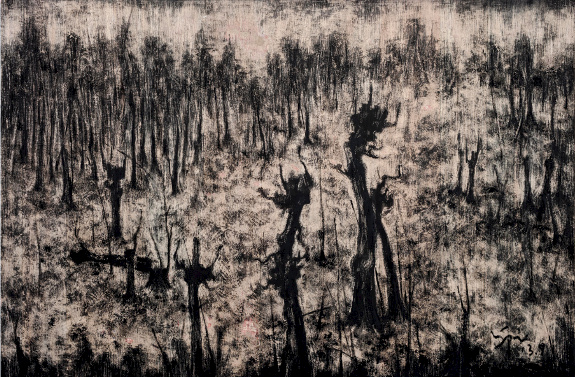 About the exhibition
Duration: Mar 20 – May 3, 2014
Venue: Zhong Gallery·Beijing
Opening: Mar 20, 2014 Thur 15:00
Courtesy of the artist and Zhong Gallery.
Related posts: