Artist Statement by Zhou Jie
The 36 days starting from August 9 to September 13, for the audience as well as myself, is an in-depth exhibition with participation. During this period I will have been living in the exhibition hall, it contains an unfinished iron wire single bed, a pile of semi-finished "plush toys" woven with iron wire, food to sustain life for more than one month, several sets of clothes and three transparent dustbins. Most of the time I might try to improve the wire sculptures, except when resting on the wire bed when I am tired and eating prepared food when I am hungry. A toilet and bathroom is located on the second floor. Of course, I have a phone so that I can call people, read Wechat and even play games online. I might stay alright until the 36th day, completing all or part of the sculptures, and may be left with surplus food; or I will eat all the food ahead of the 36th day, I might be sick, and may not be able to stand up so that I end the exhibition early. This is my participation. I have a lot of speculation about the participating audience, but it is unpredictable (It should be more precisely defined as "participants", actually the roles here are more than from "viewing" to "thinking"; moreover, who will become a spectator in another person's life?). A spectator will have a lot of freedom.
I actually don't know exactly what to express through this period of time, or I'm not sure how many things can be expressed. Like many things in life, it can start only when you find a reason. The condensing of time and space makes some of our senses become so numb, so that there are fewer and fewer opportunities to be immersed in one thing. At the same time, a large number of new incentives make us reduce or even shut down some sensory responses, or rather, it becomes necessary for us to become numb. Permanent numbness gradually becomes an indistinct pricking. I create a series of iron wire sculptures that are derived from the feeling. And only when I evoke a state that is different to alienation and detachment, specifically contacting the unspecific feeling, will the spectator and I am be able to recognize the information from the feelings; In addition to the conversation with two media sources that are familiar to people, most things that happen during this period will be just like the occurrence during natural daily life, and it's fantastic that I will be aware of many experiences that seem to occur only once. For example every day I will be dedicated to closing the established target; for example how does my body fight against the new stimulus, whether it can gradually adapt to …. So it will be a metaphor of spending 36 days in calling the whole body and mind to participate in it, it seems that the ontology and metaphor are confused, but what exactly is an ontology, the spectator and I will go together to find the answer.
About the artist
Zhou Jie was born in Changde, Hunan Province in 1986, graduated from the Department of Sculpture, CAFA in 2010. Her first solo exhibition "Insight – Zhou Jie Solo Exhibition" was held at Beijing Art Now Gallery in 2012, and the gallery presents "Zhou Jie Solo Exhibition – 36 Days" in 2014. Her work is collected by the Australian White Rabbit Gallery, CAFA Art Museum, and Hejingyuan Gallery.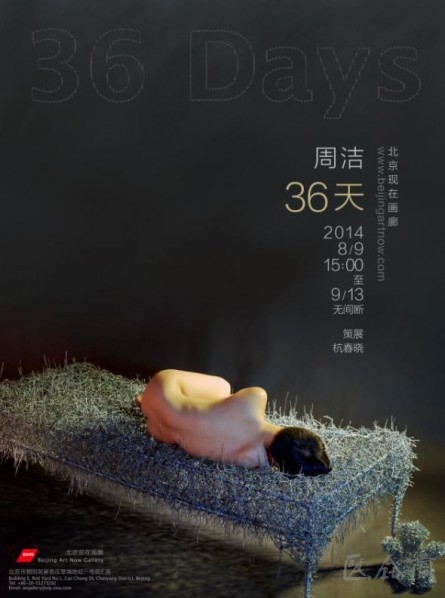 About the exhibition
Curator: Hang Chunxiao
Exhibition Duration: August 9 – September 13, 2014
Venue: Beijing Art Now Gallery
Courtesy of the artist and Beijing Art Now Gallery, translated by Chen Peihua and edited by Sue/CAFA ART INFO.
Related posts: